Airlie, S., Blench, B. J. R., & Andrews (Introduction), F. (2009). Scotland's glass: 400 years of glassmaking 1610-2010. UK: Cortex Design.


Added by: biblioadmin (2010-12-21 18:08:41) Last edited by: biblioadmin (2013-02-03 15:01:05)
Resource type: Book
ID no. (ISBN etc.): 978-0954919658
BibTeX citation key: Airlie2009
View all bibliographic details

Categories: Art Glass, General (Europe), Glass Art, Glassmakers (Europe), Industrial Glass, Paperweights
Keywords: 1600s, 1700s, 1800s, 1900s, 2000s, British, History, Lampwork, Monart, Moncrieff, Scotland, Stained Glass, Strathearn, Studio Glass, Vasart
Creators: Airlie, Andrews (Introduction), Blench, Hudson
Publisher: Cortex Design (UK)
Views: 4/1593
Views index: %
Popularity index: 10.5%

Abstract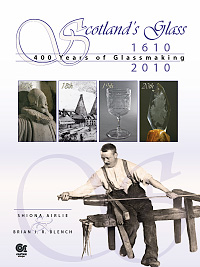 The history of Scottish glassmaking, written by Shiona Airlie and Brian J. R. Blench.

From humble beginnings, the Scottish glass industry prospered to become a centre of excellence. In this book, the 400 years of Scottish glassmaking history are explored and richly illustrated with many photographs of items that have never been seen before: rare and amazing glass from the 17th to the 21st century.


Glasses actually used by Prince Charles Edward in 1745
A one-metre tall epergne produced in 1837 for Queen Victoria's accession
Bottles from the 18th and 19th centuries
Rare examples of Clutha glass
Exquisite 19th century engraving by Millar and Keller
Examples from Monart, Ysart, Vasart, Strathearn and Caithness
The most prominent names in Scottish glassmaking examined: Sir George Hay, John Ford, John Baird and 20th century notables such as Salvador Ysart, Helen Monro Turner, Alison Geissler and Alison Kinnaird
Paperweight examples from Ysart, Caithness, Perthshire, Selkirk and individual craftsmen
Stunning 20th century studio art glass and sculptures
Notes
This is probably the most readable and complete history on Scottish glass ever! Well illustrated and packed with new information. Jill Turnbull is credited which in addition to the authors pedigrees' ensures that it meets academic rigour but written in a clear and accessible language.

A must have for glass lovers and anyone with an interest in Scottish history.

Quotes
p.5 A message from Alison Geissler MBE:

As 400 years is only four of my lifetimes (I am currently 102), I have been invited to write a few words for this fascinating book, which covers all aspects of Scottish glass - one of my great interests.

(Opening paragraph)

Added by: biblioadmin


Keywords: Alison Geissler
Musings
p.57, Paragraph 3 Errata: It is stated that Colin Terris was involved in the design of the Mastermind trophy. This is incorrect Denis Mann solely designed the bowl and the engraving. The bowl design was used extensively by Caithness Glass.

Added by: biblioadmin (2010-12-21 18:21:24)


Keywords: Mastermind